Politburo Standing Committee of the CPPCC National Committee Chairman Yu Zhengsheng to Xintai wheel tour guide
Source:LIZHONG Group Author: Time:2015-07-23 00:00:00
July 22, 2015, the CPC Central Committee Political Bureau Standing Committee of the CPPCC National Committee Chairman Yu Zhengsheng visit Thailand in Rayong Industrial Park, the group visited Thailand - Xintai Wheel Manufacturing Co., Ltd., the company's production and management was questioned and understanding. Guided tour leader CPPCC National Committee Vice Chairman and Secretary-General Zhang Qingli, the king of the CPPCC National Committee Vice-Chairman and President of the National Federation Qinmin, the National Committee of the CPPCC Economic Committee Director Zhou Bohua, Vice Foreign Minister Liu Zhenmin, Ambassador Extraordinary and Plenipotentiary in the Kingdom of Thailand Ning Fukui and the like.
22 am, the motorcade drove slowly into Xintai wheel factory, general manager Caowei Ze, deputy general manager of Ye Zhen and other company leaders and staff, the arrival of Yu and his party a warm welcome. Yu, accompanied by the President and other leaders visited the Caowei Ze finished Showcase, paint shop packaging production lines and finished products warehouse logistics department, asked in detail about the personnel situation of enterprises, production technology and production equipment, etc., and to modernize the company's production , automation and scientific management gave a high evaluation.
Xintai Wheel Manufacturing Co., Ltd. is one of the earliest check-Thai Rayong Industrial Park businesses, had been formerly the National People's Congress Standing Committee of the Great Comrade Wu Bangguo care and guidance. The company invested by Lizhong Wheel Group, in September 2010 incorporated in Thailand, covering about 60,000 square meters, registered capital of $ 16 million, with a total investment of $ 60 million to support the production of high-grade car wheels based. The company independently developed bilateral casting technology, rapid solidification casting technology, spinning technology, to further improve product performance, to achieve a lightweight wheel, the industry has reached the international advanced manufacturing level, the products are exported to Europe, America, Japan, Korea and Thailand ground.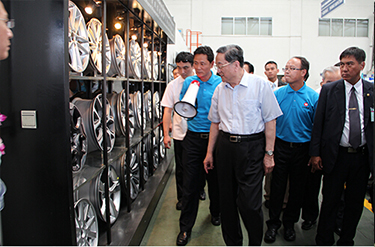 Category:Group news